Physical Therapy Services
The goal of physical therapy is to help you regain movement and strength. Our physical therapists will visit you in your home to help you perform daily activities and progress towards your physical goals.
Occupational Therapy
Occupational therapy is designed to help you regain your independence by performing daily activities by yourself. You may learn new ways to eat, put on clothes or comb your hair. Occupational therapy is sometimes ordered by a doctor without other skilled care.
Speech Language Pathology
A Speech-Language Pathologist, sometimes called a speech therapist, specializes in the evaluation and treatment of swallowing, cognitive/thinking skills and communication disorders for patients of all ages. Speech Language Pathology services aim to improve a person's quality of life through regaining the ability to eat and swallow, improving cognitive skills for increased independence, and helping to regain communication skills to express wants, needs and ideas. Speech Language Pathologists take advantage of being in the home to more effectively assess our patient's real-world needs and individualize their treatment. Oftentimes patients with dementia or cognitive impairment respond better to treatment because they're in a familiar setting.
Pediatric Speech Language therapy includes comprehensive assessments and rehabilitative services for disorders in the following areas: articulation, language, fluency, voice, oral-motor, feeding, central auditory processing, and respiration.
Common Disorders that a Speech Language Pathologist can assist patients of all ages include:
Articulation therapy
Providing speech-sound stimulation for the correct production of sounds
Cochlear implant/hearing impaired program — Hearing impaired children are instructed to use the most functional communication system for everyday interactions. That may include speech, sign language, or a combination of both methods. Auditory training and lip-reading skills are also used to increase the child's communication. Sign language classes are available for all family members.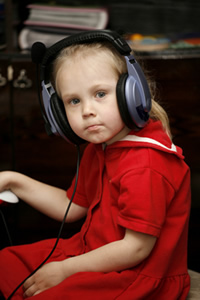 Cognitive Impairments and Dementia
Four our patients and families affected by dementia and other cognitive impairments, SLP helps bridge some of the cognitive and communication gaps that may develop. SLP may help patients with early-stage cognitive disorders develop compensation techniques to keep up with daily tasks and maximize their independence. In the late stages, swallowing disorders may emerge and the SLP can assist in techniques for safe feeding.
SLP also has an important role in implementing communication strategies for both the patient and the family because problematic behaviors from dementia patients may stem from their inability to express their wants, needs or pains.
Dysphagia (Swallowing Disorders)
Swallowing disorders affect approximately 15 million Americans, and nearly all dementia patients eventually develop dysphagia. Dysphagia is associated with a number of other conditions, including stroke, progressive neurological conditions (multiple sclerosis, ALS, Parkinson's, etc.), respiratory conditions (COPD, etc.), brain injury, or spinal cord injury. Patients with dysphagia are at risk of having food, drink or medication enter their lungs (aspiration), which can cause aspiration pneumonia or choking.
Fluency Therapy
(used to treat stuttering)
Using techniques and strategies to encourage smooth, easy speech.
Language Therapy
Promoting speech-sound stimulation for the correct production of sounds.
Oral-motor, feeding, respiration therapy
Teaches breathing skills and adequate structure/function of the oral mechanism for communication, feeding, and swallowing.
Special services
— Occasionally, children use other forms of communication to help promote speech development. This is called augmentative/alternative communication (AAC) and may include using pictures to communicate, using a talking computer, or using sign language. Children may also have nutritional problems because of feeding/swallowing issues.
Speech, Language and Voice
After a brain injury or stroke, it is common for patients to have difficulty with both the physical and mental functions of communicating. SLPs work with patients to increase their ability to speak and communicate. Additionally, SLPs will implement a number of treatment techniques to treat deficits in a patient's voice.
Voice therapy
Used to reduce hoarseness and determine and maintain appropriate pitch, nasality, volume, and inflection.
Infusion Therapy
Patients needing infusion therapy used to have to stay in the hospital. With Accredited Home Healthcare, you can receive sophisticated intravenous (IV) treatment in familiar surroundings, where you're most at ease – – at home.
You'll feel confident knowing that your nurse will carefully monitor your health. Available 24 hours a day, seven days a week, our compassionate caregivers listen to your concerns and answer any questions. Our nurses are experienced in administering the most complex intravenous therapies.
Services Include: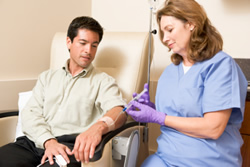 Anti-inflammatory and steroid therapies
Antibiotic and antiviral therapies
Blood Clotting factor
Cardiovascular therapies
Chemotherapies
Colony stimulating factors
HIV therapies
Hydration and electrolyte replacement
Immonotherapies
Pain management medications
Post-transplant therapies
Total parenteral nutrition
For your convenience and piece of mind your medications, supplies, equipment and staff visits – even direct billing of insurance – are all managed through a single office. One phone number is all you need for a quick response day or night.
To help you maintain or regain your independence, your home care nurse will teach you to manage your medications between visits. An appointment will be scheduled when it's convenient for your family, so everyone who participates in your care can receive the same thorough training.